In Carrabelle you'll experience "Old Florida". There are no high rise hotels or condominiums blocking your view, no four lane traffic congestion, just beautiful beaches, rich river marshes, boundless wildlife and a genuine welcoming spirit. Carrabelle invites you to relax, kick back and join in the fun! See all Carrabelle events by visiting the Carrabelle Chamber of Commerce.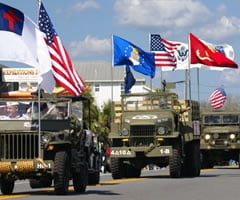 Camp Gordon Johnston Days
Visit Camp Gordon Johnston Museum's website
Camp Gordon Johnston, the Carrabelle area WWII Army camp engulfed over 275,000 acres and was a major U.S. Army Amphibious Training Base. Many that participated in the D-Day landings trained at Camp Gordon Johnston.Every year we show our support for our veterans with the Camp Gordon Johnston Days. Held annually in March, this event is a fun day for all veterans, families and friends attending, even a few WWII vets that went through the training here will be available to tell their stories. Activities include a parade along Highway 98, showcase of military vehicles, social event, dinner/dance event, live music and more.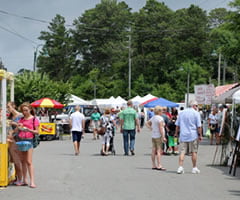 Carrabelle Riverfront Festival
Visit Carrabelle Riverfront Festival's website
Along the beautiful riverfront every April, the Carrabelle community hosts the annual Carrabelle Riverfront Festival.  Activities include an antique car show, pet parade & contest,  food court featuring fresh seafood, caught and prepared by locals, live musical entertainment, heritage & culture displays, a fishy fashion show, craft vendors and much more!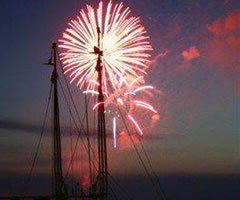 Independence Day Fireworks
Join us in celebrating our country's independence on July 4th along the Carrabelle waterfront at dark.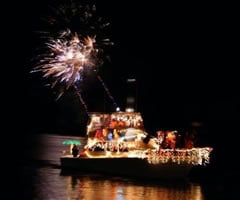 Holiday on the Harbor
Carrabelle celebrates the holidays on the riverfront harbor! Boat parade of lights, live musical entertainment, food vendors and fireworks show finale! Annually held the second Saturday in December.